Pontsticill
Merthyr Tydfil
Pontsticill is in the Taf Fechan Valley and sited by a bridge over the Taf Fechan river. This village, situated in the Brecon Beacons National Park, was in the County of Breconshire until 1974. It is in the parish of Vaynor and not Merthyr Tydfil. The population is in excess of 500 and is rising. This is an old village and properties here vary from cottages, over150 year old, to new executive houses. At one time there were two mills here for grinding corn at Y Garn and some ruins came still be seen. In the nineteenth century there was a school here, several chapels and two public houses, the Red Cow and the Butchers' Arms. Today one chapel has been converted to a private house.

This general area was vital for supplying water to the large town, Merthyr Tydfil.

The Pentwyn Reservoir or Dolygaer Lake was the first reservoir, as it was built in 1858. The Lower and Upper Neuadd reservoirs followed and then a fourth reservoir was constructed south of Pentwyn to merge the two into the Pontsticill Reservoir and create a stretch of water over 2 miles long. The Pontsticill Reservoir was completed in 1927. The constructing the reservoir involved the flooding of the land belonging to eight farms, as well as some cottages and small holdings. Under the reservoir are scattered houses, the vicarage, Capel Taf Fechan, the 15th century Dolygaer church and a Congregational chapel. The graveyard of Capel Bethlehem was moved, its memorials have been recorded and are held by Merthyr Libraries. There are water filtration plants situated in the village, maintained and run by the Welsh Water Authority, which treats the water supplied to Merthyr Tydfil.

'Zululand' appears on official documents from the late 1870s onwards as a 'proper' address in this area. This is because the Upper Neuadd was built during the Zulu war and was originally nicknamed 'Zulu'. Nearby Dolygaer is the base for the Morlais Mountain Rescue Team.

CJ
The Taff Fechan Valley
(Postcard Courtesy of Clive Bevan)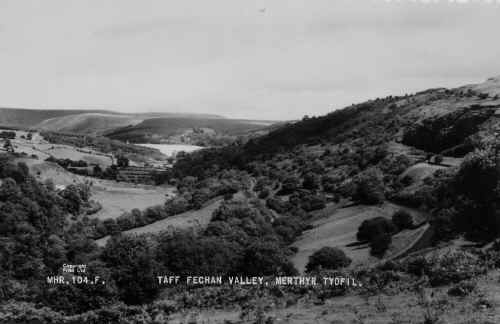 Pontsticill Village
This is looking down the hill into the village. The Butchers Arms can just be seen to the left, and behind the big tree.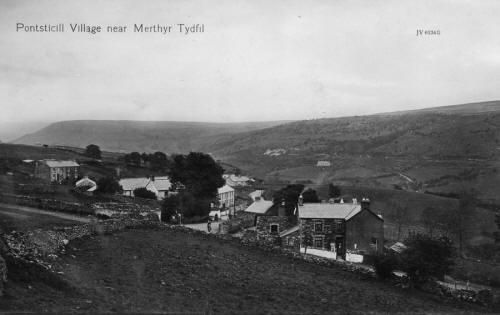 The Village Hall - Pontsticill

Pontsticill, the Urinal that was next down from the Village Hall.
(Photograph Courtesy of the John Owen Collection)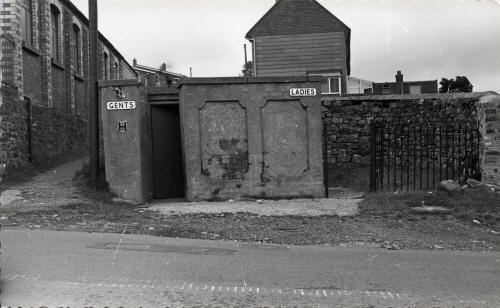 Pontsticill Village with the Butchers Arms at the top of the hill.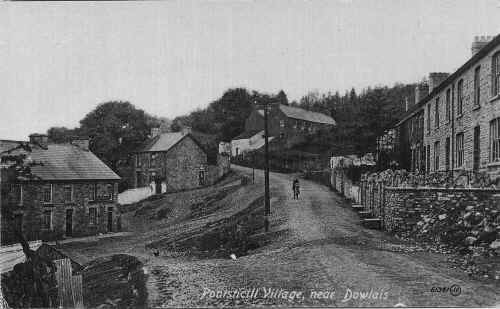 Pontsticill
(Photograph Courtesy of Tom Heir)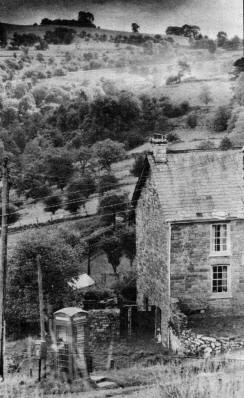 From the Merthyr Express 19th March 1949
Taff Fechan Reservoir
This shows the reservoir before the Forestry Commission planted thousands of fir trees. In the foreground is the B&M line from Pontsticill Junction to Pant then Dowlais Top and eventually Newport.
Pontsticill Station
This was a junction where you would change trains for Brecon to the north and Newport to the south.
Old Waterwheel
Near bottom of hill leading up to Torpantau from the direction of Dolygaer. What was it used for?
(Photo Courtesy of Cyril Pugh)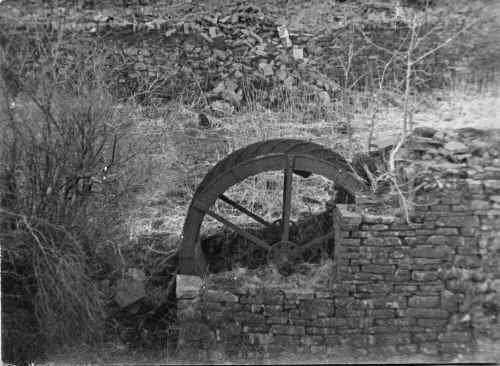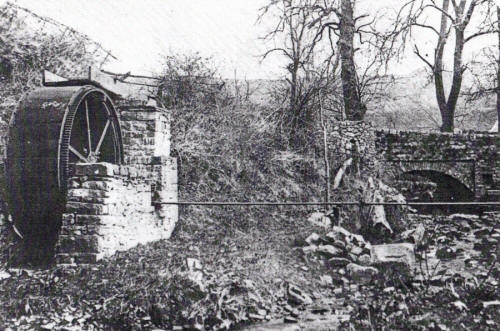 Taff Fechan Reservoir during a Drought
Revealed is the Entrance arch to the old Bethlehem Independent Chapel - built in 1828,
(Photograph Courtesy of Robert Thomas, West Grove).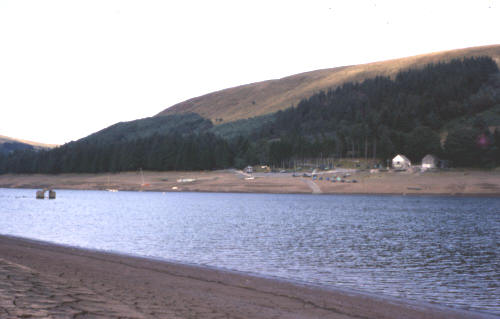 Bethlehem Independent Chapel
Built 1828 flooded by the building of the reservoir.
(Drawing Courtesy of Dewi Bowen)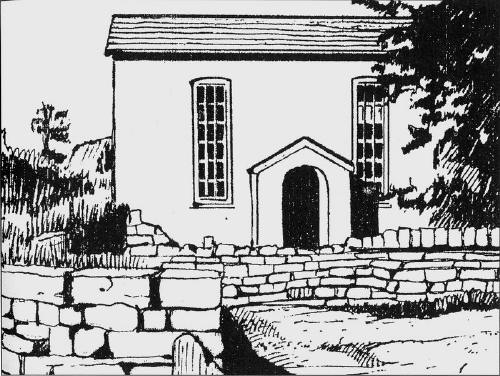 Ponsticill Lime Kiln - 1965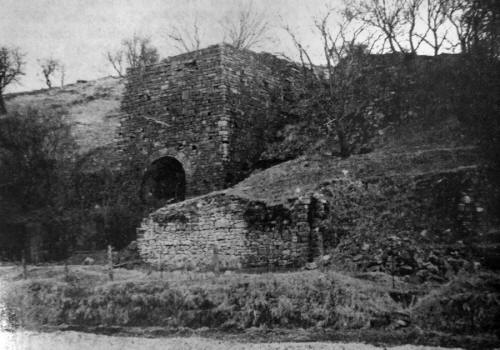 Merthyr Ramblers on the Hills above Pontsticill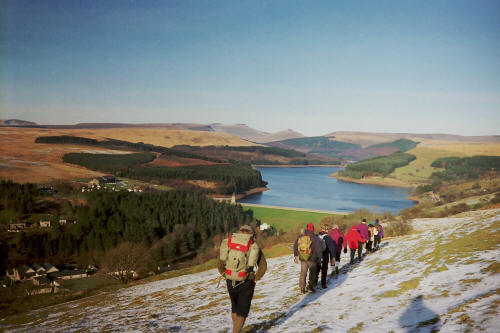 Do you have any photographs or information relating to Pontsticill, Merthyr Tydfil?
If so, please contact us, by clicking the 'Contact Us' button.

To the Map