Alan Rees' Heol Cymro
Troedyrhiw
Old pathway leading to Pendducae Farm and beyond.
HEOL CYMRO

Length 0.66 Kilometres

Heol Cymro was first used in the 1945 Mitchell Trial, there were two 'cleans':- 1st J Blackwell, runner up Bert Perrigo.

Alan Rees 'Cleaned' the Cymro on December 2nd 1999, the 54th anniversary of the first 'clean'.

Alan Rees 'Cleaned' the Cymro on January 1st 2000, the first 'clean' of the Millennium.

Between September 9th 1999 and January 6th 2004, Alan completed 3138 Climbs of which 3111 were Cleans, a total of 2071 miles

Alan Rees
Result sheet of the 1960 Freeman Shield, League Trial and Championship Trial. Alan competed in this as a novice and achieved the position
of 'Best Novice'. He was the outright winner of this prestigious event on February 28th 1965.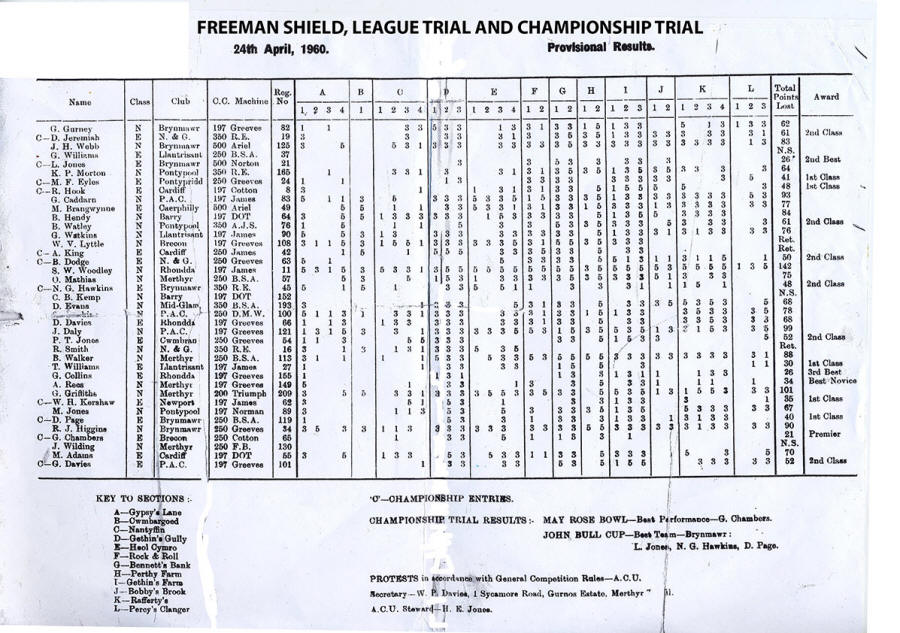 From the Merthyr Express December 23rd 2004

(courtesy of Alan Rees)

Heol Cymro

(Photograph courtesy of Alan Rees)
Alan and Anthony Rees, Heol Cymro, 1991.
(Photograph by Bob Wilding, courtesy of Alan Rees)
Hillclimb up the Gymro in the 1950's.
The meadows in the middle of the photo are now the site of Afon Taf School.
(Photograph courtesy of Terry Robbins)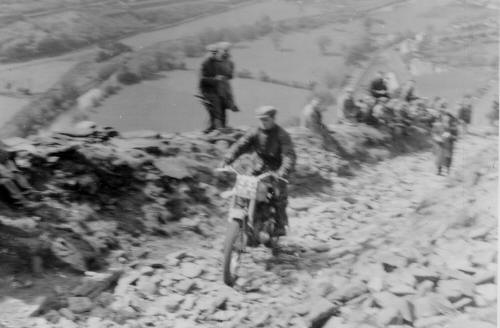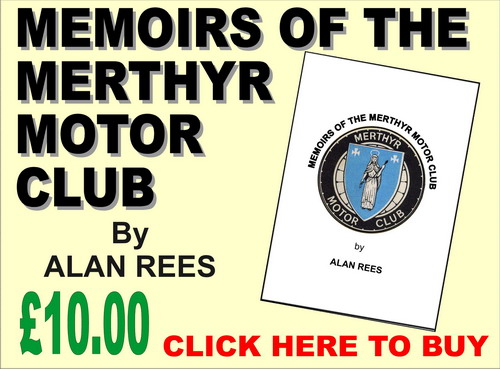 On the 1st March 2013 Alan Rees achieved his amazing target of 20,000 climbs of Heol Cymro.

This is his history and statistics of his climbs.

(Courtesy of and Copyright of Alan Rees)

From The Wales on Sunday 17th March 2013
25,000 Rides up Heol Cymro achieved by Alan Rees 16th December 2014 after 1378 visits.
(courtesy of Alan Rees)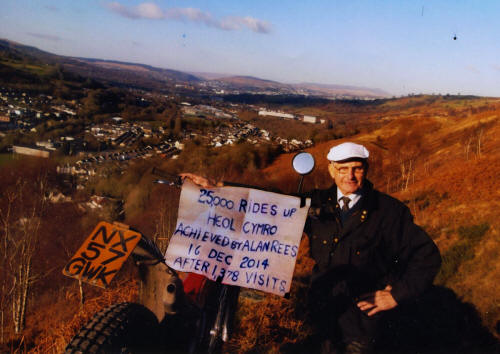 Over the years Alan has recorded his results on this large rock on the side of stone path.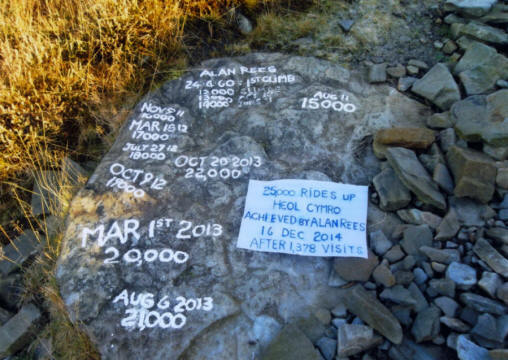 Summary of the climbs done on Heol Cymro by Alan Rees. December 2014.
(courtesy of Alan Rees)