St John's Church and Vicarage,
(Postcard courtesy of Gill Thomas, West Grove)
St. John's Church, Junior Football Team. 1903 - 1904
Back Row L-R:- A.Walters, Sec, F.Price, Trainer, Rev. D.Griffiths, V.President, Sid Willet, Captain, V.Saunders, J. Whelan, F.Woodman, President, Rev. D.Evans, V.President, Ll.Richards.
Middle Row L-R:- T.De La Hay, T.Davies, W.Fitton, J.Evans, J. Harding.
Front Row L-R:- Ll. Nicholas, F.Wayt, V.Captain, W.Price.
(Photograph and names courtesy of Tom Price)
Nancy & Elsie Williams each side of the Vicar, Bill Morgan
L-R:- ?, John Owen, ?, Nancy Williams, Bill Morgan (vicar), Elsie Williams, ? (Also 2 unknown workmen at the rear)
(Photograph courtesy of Margaret Pearson - From the Merthyr Express)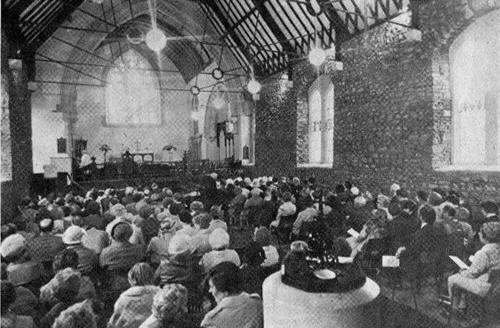 Silwyn Waldron tells us "My late father J.C.Addis ( known as Jack Addis) is in
this photo, he is standing just behind and to the right of the Bishop. My Dad
was the vicar's ( Rev Bill Morgan ) warden at the time."
St. John's Church Vicarage, birthday Party late 1950s
Back Row L-R:- Vicarage Housekeeper, Rev. Payne, Mrs. Payne
Middle Row L-R:- ?, Liz Gwynne
Front Row L-R:- ?, ?, ?, ?.
(Photograpgh courtesy of Liz Gwynne now Evans)