The story of modern Italian immigration began with a tide of economic migrants in the 19th century. The majority coming from the mountain villages of the North, often as seasonal workers walking overland to French ports. Gradually more stayed and either saved enough to bring their families here or married local women and started families here. They encouraged other family members and friends from their villages to join them in a classic pattern of chain migration. The 20th century saw another wave of immigration, predominantly from the South of Italy and Sicily. A significant number passed through London and branched out to establish communities in South Wales.
Charlie Speroni wrote that leaving the family farm and vineyards in Italy was a major upheaval. As a child in 1927 he arrived in Wales unable to speak a word of English but he was made to feel very welcome. As well as attending school he was expected to work in the family business. During the depression the family rented a fish and chip shop in Penydarren and Charlie was in full time employment working on the chip carts in the winter and the ice cream carts in the summer months. He worked in London for a few years but always returned to Merthyr. Charlie never returned again to Italy and said that 'The sky may not be so blue in Wales, but the friendliness of its people make it home.'
Speroni's Ice Cream Cart
Tom Protheroe standing with Mr. Speroni's Ice Cream cart.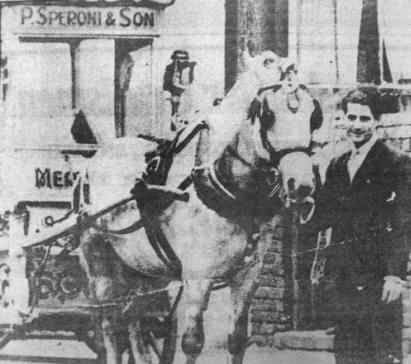 The Galleozzie family are a Merthyr family! They have been living in Merthyr Tydfil for over 130 years, since Luigi moved here in the 1870s. Martyn Galleozzie, a former Welsh ABA featherweight champion in the 1970s was definitely Welsh.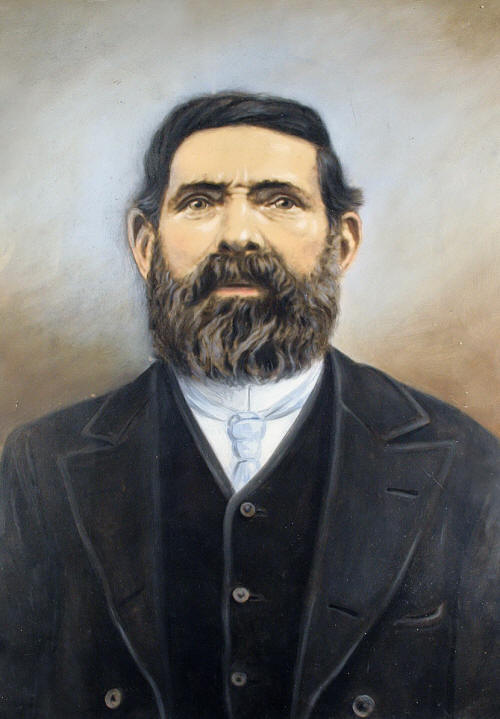 Dominico Basagelao
Dominico Basagelao arrived in South Wales in the early 1860s and finding himself in Pantywaun on a snowy winter's evening he took lodgings with Mr and Mrs Thomas of the Royal Arms Public House. He found work in as a colliery in the South Tunnel Drift Mine. Although a poor Italian and a stranger, he married into the rich Jones (Ceffyl Gwyn) family who were Welsh speaking chapel people. John Martin Basagelao born in 1868 became a wealthy man. He was the landlord of the Tredegar Arms and the former Red Lion public houses at Dowlais Top.
At the start of World War II Italian nationals were interned as enemy aliens, which many felt to be extremely harsh treatment as they themselves were fiercely anti-Fascist. Just prior to the Second World War a number of Italian residents in the Borough decided that the time had come to make important decisions and a number made the big step of applying for and achieving British citizenship. Among their number was Giovanni Bracch from Troedyrhiw, Giovanni and Giuseppe Opel from Treharris and lastly Cesare Cordani, Merthyr Tydfil in April 1940.
From the 1880s the Berni family had a café in Pontmorlais, and then John Berni had a temperance bar and high class confectionery at 91 High Street.
The Berni Brothers' Berni Inn - 13 Pontmorlais
(From the Merthyr Express)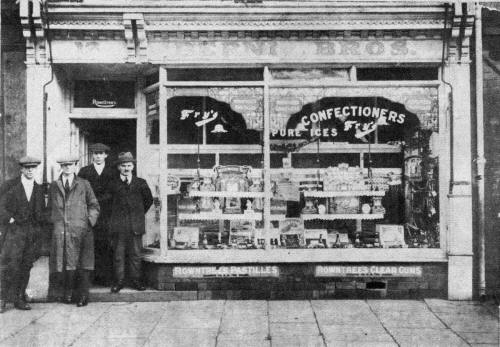 Mr Barsi was at one time an electric tram driver but later he ran a fish and chip shop in Penydarren. He was thankfully not interned during the Second World War, having served his adopted country well during the First in the Welsh Regiment.
Mr Barsi in his fish and chip shop at Matthias Terrace, Penydarren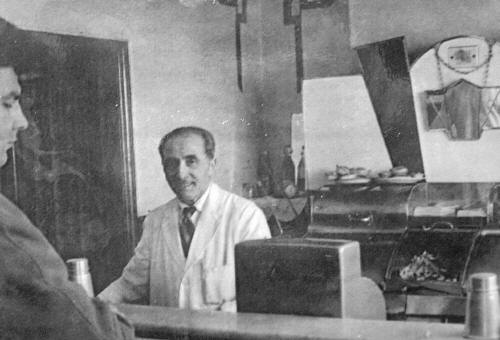 The Provini's came to Cefn Coed from Tredegar and kept the Corner Cafe for many years,there was the Provini fish-bar in Georgetown and they also kept the Wellington in Bethesda Street. Frank and Tony Viazzani in the Station Café, John Street were the ticket agents for all local boxing tournaments and the walls of the café are still decorated by many boxing photographs of Howard Winstone.
CJ