Gellideg School
Swansea Road, Merthyr Tydfil.
Gellideg Primary School - Head teacher & Teaching Staff - 1959.
Back Row :- Roy Jones, ?, Miss Wilson, Mr. Davies
Front Row :- ?, Ceinwen Owen, Mrs. Rees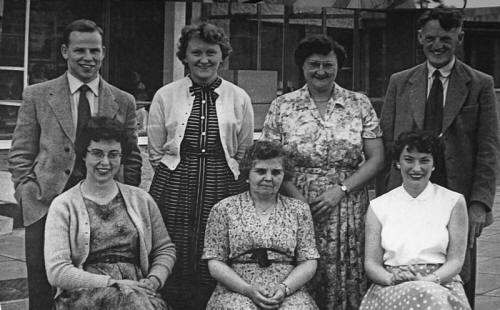 Miss Ceinwen Owen

First Headmistress of Gellideg School

She was born in Abercanaid in 1899 and died in Prince Charles Hospital, Merthyr Tydfil in 1985. As a child she attended Abercanaid Infant and Junior School and in 1912 transferred to Cyfarthfa Castle Grammar School. In 1917 she passed the Senior Oxford examination and became a student teacher then in 1919 she was elevated to an Uncertified Teacher.

In 1920 she enrolled at Swansea Teacherís Training College on a two year course and graduated as a Teacher from there in 1922.

After being unemployed for a year she was appointed in 1923 as a Teacher in her home village of Abercanaid at the school she had attended as a pupil. She remained at the Abercanaid School until 1950 and served in a number of posts. In 1950 she was appointed Head Teacher of Edwardsville Primary School in Treharris where she stayed until she was appointed as the first Head Teacher of Gellideg Primary School in 1959 and continued in this post until her retirement in 1964. In addition to her teaching career she was a very active member of Deml Baptist Chapel in Abercanaid and was elected a Deacon of the chapel in 1937. She had to relinquish this position in 1940 to take care of her ailing Mother but was re-appointed to the post after her Motherís death in 1948. At various times she was also President of the Welsh Baptist Chapels of the Borough of Merthyr Tydfil, President of the Federal Free Church Council of Merthyr Tydfil and Secretary of Dowlais and Merthyr Tydfil Welsh Baptist Chapels.

(Kindly provided by her nephew, Glyn Owen.)
Gellideg School - Offical Opening - 15th July 1959.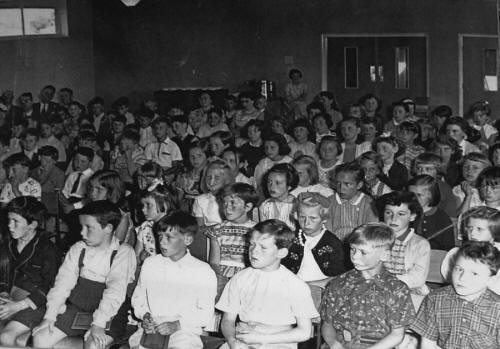 Gellideg Infants School - Class E - 1959
Back Row L-R: Teacher, ?, Selwyn, Roy, Michael Morgan(1), Michael Morgan(2), ?, Kelvin ?, Robert ?, Tommy Townsend, Billy Abbruzzee, Ken Jones, Michael ?, Teacher
Middle Row L-R: Peter Lewis, Paul?, Anthony, Barbara Lewis, Janet Weaving, Christine Rogers, Rosalind Williams, Susan Williams, Ken Lewis, ?, Colin?
Front Row L-R: Rita, Susan, Gaynor, Sandra, Suzanne, ?, Pat Rudge, Christine Bow, Janis/Jennifer?, Janis Littlewood, Christine Cornwall.
(Photograph Courtesy of Ken Lewis)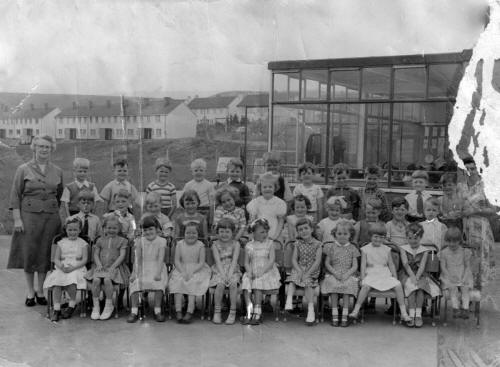 Gellideg School - 1958/59
Hugh can remember the following names:
Back Row L-R: 5th: Larry Morgan, 8th: Hugh Lewis, 9th: Melville Williams and 10th: Robert Griffiths.
4th from right is Sian Skyme - now Sian Dawson.
(Photograph Courtesy of Hugh Lewis)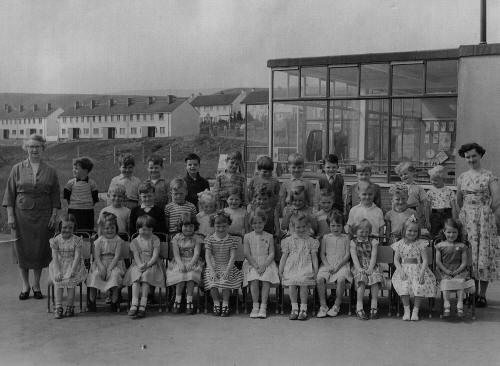 Gellideg Infants School - 1960 circa
Back Row L-R: Teacher, ?, ?, ?, ?, ?, ?, ?, ?, ?, ?, ?, ?, Teacher
Middle Row L-R: Kenneth Stanfield, Phillip Pearson, ?, Michael Vaughn, ?.
Front Row L-R: Lynette Richards, ?, ?, Marilyn Thomas, ?, ?. ?, ? Facey, ?, ?, ?
(Photograph Courtesy of Margaret Pearson)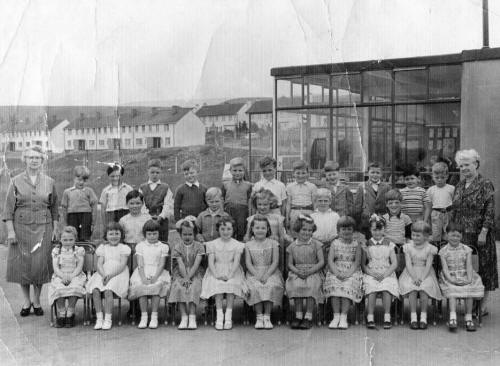 Gellideg Infants School - Nativity Play - 1964
Back row, centre in white is Graham Pearson, as Gabriel
Top from Left: Christine Ballion. 2nd, Richard Clark (boy hidden behind is David Hughes), 3rd Heidi Scoladeck. 4th, Judith Thomas. 5th Clayton Noble, 6th, holding the baby, Susan O' Brien, 7th Steven Jones
9th, in stripes , Mansell Mason. 10th, Paul Price. 11th ,Melvin Rees, 12th Peter Scoladeck
Bottom Row from Left: Catriona McDonald, Martyn Thomas, Steven Facey, Brian Sullivan, Wayne Thomas, ?, Julia ?, ? Rogers, Susan Foley.
Girl Sitting: Sian Mason
Girl behind the Angels wearing a scarf is Cheryl Mason.
(Photograph Courtesy of Margaret Pearson. Extra Information Courtesy of Mansell Mason,Paul Price & Alex McDonald)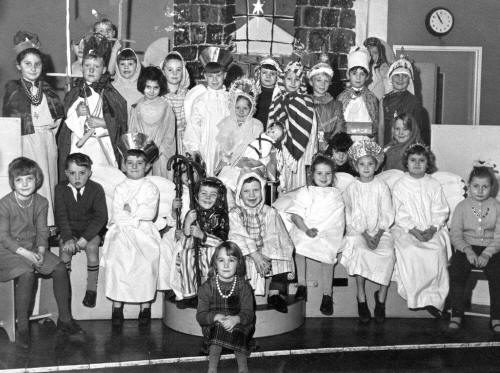 Gellideg School Football Team. 1965.
Back Row L-R: ?, ?, ?, ?. Allan Pearson, ?, Martin Hussey.
Front Row L-R: Gerwyn Howells. ?, John Davies, John Hughes, ?. ?. ?, Alan Price,
(Photograph Courtesy of Margaret Pearson)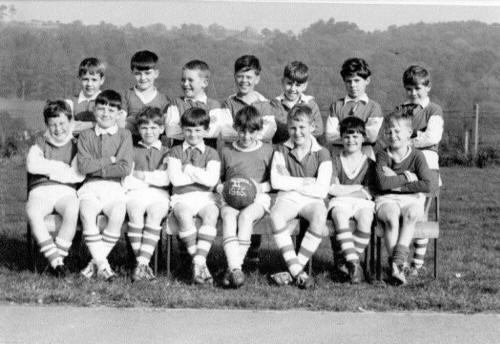 Gellideg School - St. David's Day - 1972.
Geoff Mahoney Says: "Names are from the back left, starting with the boy with the checked jumper...who is Ian Izatt, next to him is Peter Marshall,not sure then up to the boy with the glasses who is Steven Charleston. I'm trying to hold hands with Andrew Evans with Ian Harris on his right with the white jumper. Girl with the white poncho behind Andrew Evans is Michell Client, behind her the girl with the curls is Michell Marshall and next to her with the leek in her face is Nicola Jones. Teacher by the piano is I think Miss Williams. Sorry that is all I can name."
Steven Charleston Says: "Some missing names are, Peter Owen, Darren Jones, Elaine Thomas, Karen Jones, Cheryl Llewellyn, David Ress."
Andrew Kenning Says: "In the front row the lad with fingers in his mouth is Lee Ralph. This girl next to him is Suzanne Kenning."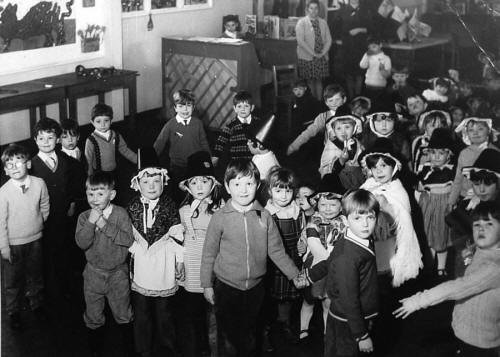 Gellideg Junior School - 1980c
Jason Heggie is pictured fourth from the left, in the back row.
(Photograph Courtesy of Cliff Heggie)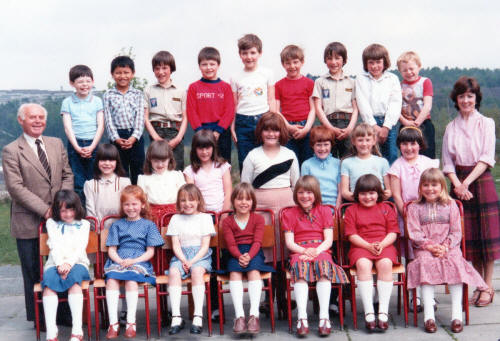 Do you have any photographs or information relating to Gellideg School, Merthyr Tydfil?
If so, please contact us, by clicking the 'Contact Us' button.