Bethesda Street
Merthyr Tydfil
< Click on the photograph to enlarge it >
< Click on the road-sign to follow it >
The same scene as above but some 30 years later.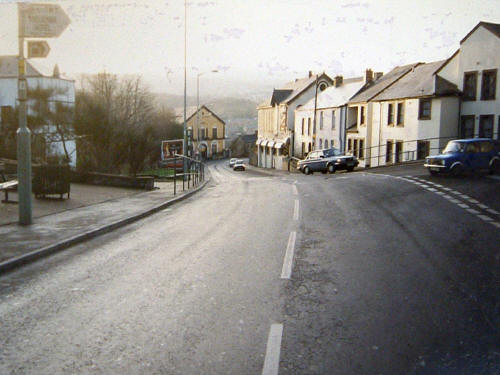 The Glamorgan Arms.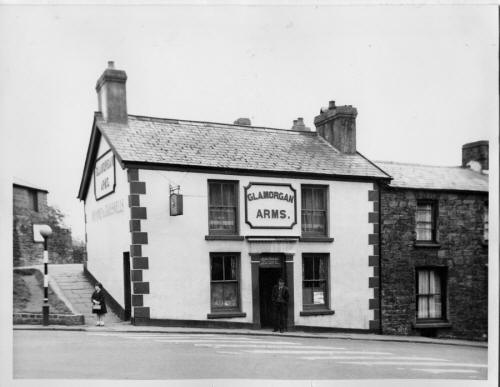 A View down Bethesda Street on a winters morning in the 1970s.
(Photograph courtesy of Tudor Jones)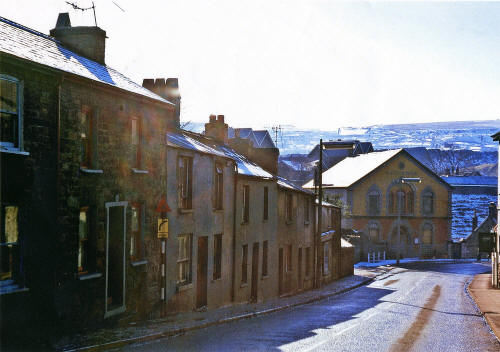 Bethesda Street in the Snow (Showing Abermorlais School)
(Photograph Courtesy of Pam Jenkins)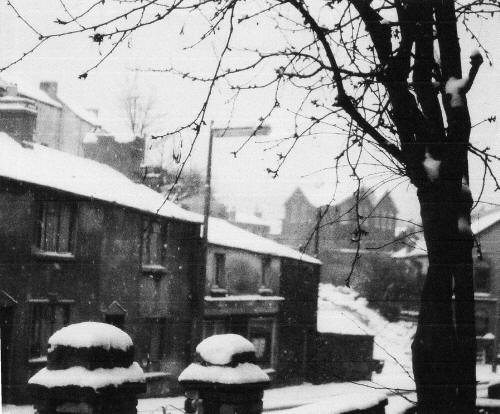 The Catholic Rooms
(Photograph Courtesy of Mike Donovan)
On 28th December 2009, fire struck the unused building

(Photographs Courtesy of Richard Jones - MLA Photography)
Looking towards Pontmorlais in the 1950s
The Ford Consul car is parked on what was the where tramway exited the tunnel shown above
and continued to the Glamorganshire Canal at Pontystorehouse, Georgetown.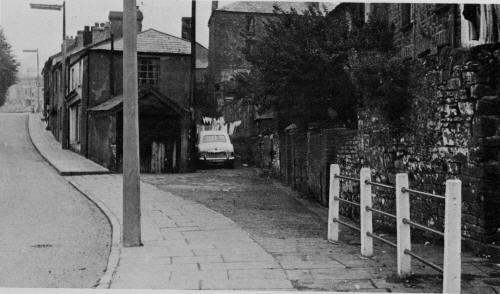 Bethesda Street in the 1970's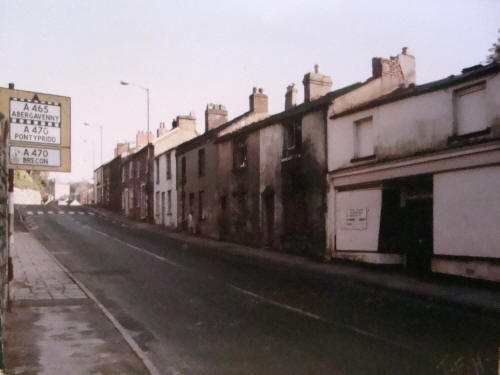 Bethesda Chapel.

Bethesda Chapel 1994

(Photograph courtesy of Glenys & Leighton Jones)

Click Here

for more

Bethesda Chapel
(Photograph by Harris & Son from the Leo Davies Collection)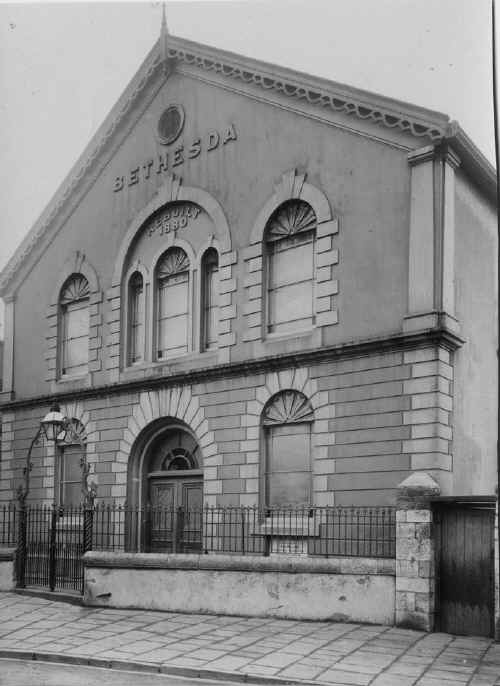 Paynters Terrace in the 1960s.

(Photographs Courtesy of Dr. T. F. Holley)

Bethesda Street, looking up towards Bethesda Chapel.

Bevan's Place 1 - 4.

Looking up Bethesda Street from outside the Old Comrades Club, now The Lantern. 1967

| | | |
| --- | --- | --- |
| Vulcan House & The Old Comrades Club (now The Lantern) | | The Vulcan Foundry and The Lantern in the 1980's |
| | | |

Vulcan House - 1990's

(Photograph Courtesy of Dr. T.F. Holley)

Bethesda Street Vulcan House and The Lantern - 1973

The Tanyard.

Bethesda Street at the junction of Vulcan Rd looking towards Georgetown roundabout.

Similar View to Above - 1979.

Bethesda Street, junction with Quarry Row 1973.

(Photograph courtesy of the David Thomas Collection)

R. H. Willis. Family Grocer. 42-43, Bethesda Street.

(Photograph courtesy of Mrs Anna Tigwell - Grand Daughter)

Morton's the Butcher.

Bethesda Street Shops in the 1970's

Baker's Garage, Dixon Street. This early photograph is marked to show where the

petrol pumps were to be situated.

Dixon Street

Showing the house belonging to Gladys and David Rawlson,

who kept the grocery shop in Bethesda Street

(Photograph Courtesy of Mervyn Davies)

Dixon Street, 1946.

Pontstorehouse Shop

This photograph from the 1890s shows the Pontstorehouse Shop, which was situated approximately near the entrance to Dixon Street, and the archway (which can be seen on the left hand side) appears to be one of the few ways of entry from Bethesda Street to 'China'.

The Wellington in the 1980's

(Photographs courtesy of David Watkins)

The Band of the Local Defence Volunteers (later the Home Guard)

Taken outside the Drill Hall in Georgetown, 1939 or early 1940.

Ernest Morgan is third from the left in the front row - with the euphonium

(Photograph courtesy of Tim Morgan, Ernest Morgan's son)

Do you have any photographs or information relating to the Bethesda Street area?

If so, please contact us, by clicking the 'Contact Us' button.

To the Map